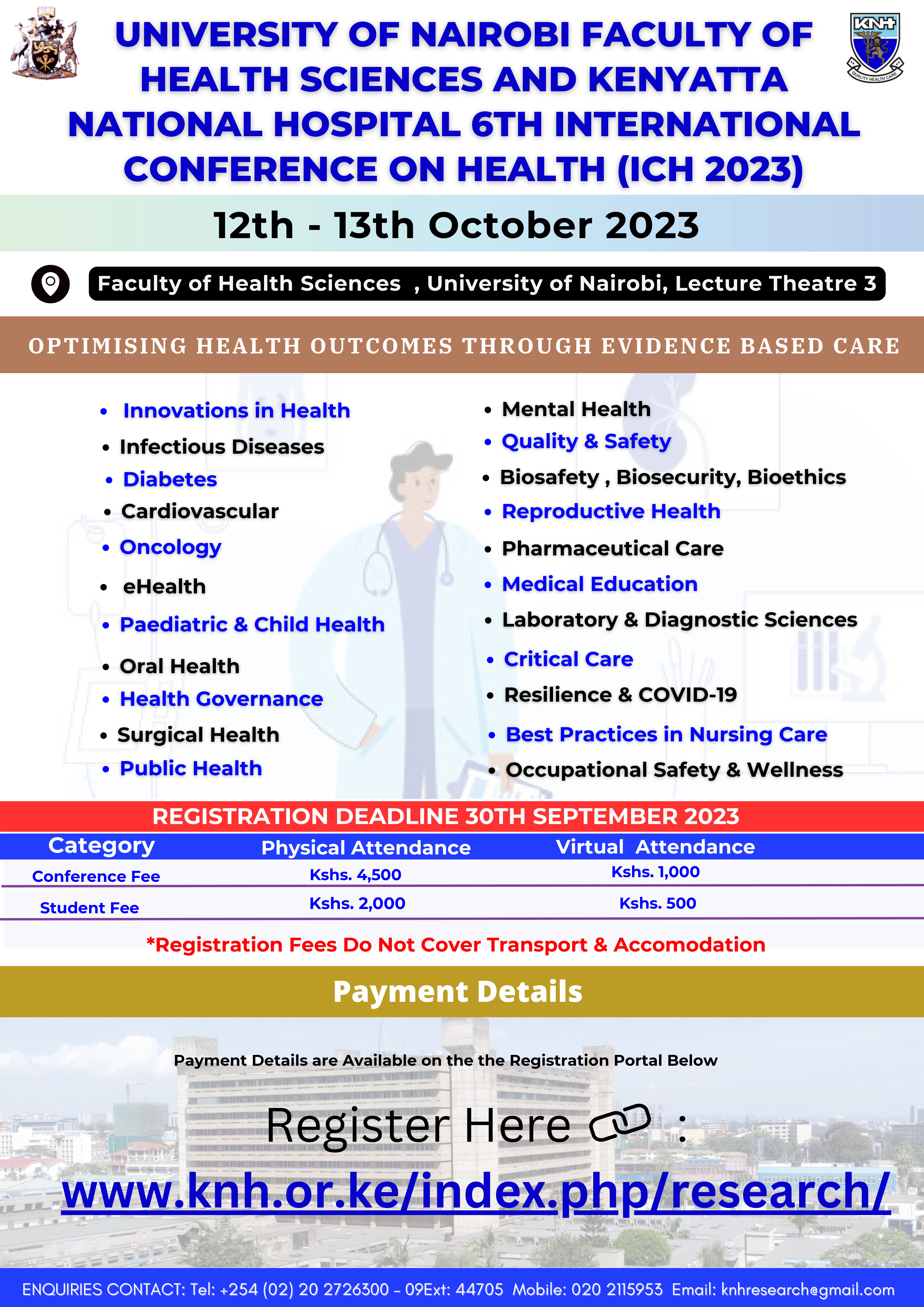 The University of Nairobi Faculty of Health Sciences (FHS) and Kenyatta National Hospital (KNH) will host the 6th International Conference on Health (ICH 2023) from 12th to 13th October, 2023.
The conference will bring together leading healthcare practitioners and intellectual leaders from Kenya and around the world. The insights from the conference will provide directions for the health agenda in Kenya and globally.
CONFERENCE THEME:
Optimising health outcomes through evidence based care.
CONFERENCE SUB-THEMES:
1) Innovations in Health
2) Infectious Diseases
3) Diabetes
4) Cardiovascular
5) Oncology
6) e-Health
7) Paediatrics and Child Health
8) Health Governance
9) Oral Health
10) Surgical care 20) Resilience and Covid – 19
11) Public Health
12) Mental Health
13) Quality and safety
14) Biosafety, biosecurity, bioethics
15) Reproductive Health
16) Pharmaceutical Care
17) Medical education
18) Laboratory and Diagnostic Sciences
19) Critical care
Registration portal: www.knh.or.ke/index.php/research/
REGISTRATION DETAILS
Virtual Attendance:  
Students:   Kshs.500.00
Others:      Kshs.4500.00
Physical Attendance
Students:   Kshs.2000.00
Others:      Kshs.4500.00
PAYMENT INFORMATION:
Payment can be made cash deposits or transfers to University of Nairobi or Kenyatta National Hospital
Account Name:     University of Nairobi Research Grant
Account No.:        1104657112
Bank Name:          Kenya Commercial Bank
Branch:       University Way
Bank Address:   P.O. Box 7206 –00100 GPO
Swift Code:           KCBLKENX
Or:
Account name:      Kenyatta National Hospital Revenue
Account number:  1003058005200
Bank:                    National Bank of Kenya Ltd
Branch:                 Hospital Branch
Bank code:            012025
Swift code:           NBKEKENXXX
LIPA NA MPESA
Pay bill No.     626088
Account No.    Name of the conference attendee
Please upload payment slip/message to the registration portal or send to  assocdean-fhs@uonbi.ac.ke or  knhresearchp@knh.or.ke
TRAVEL AND ACCOMMODATION EXPENSES
The participants will cover their travel and accommodation expenses. Tea, snacks and lunch will be provided.