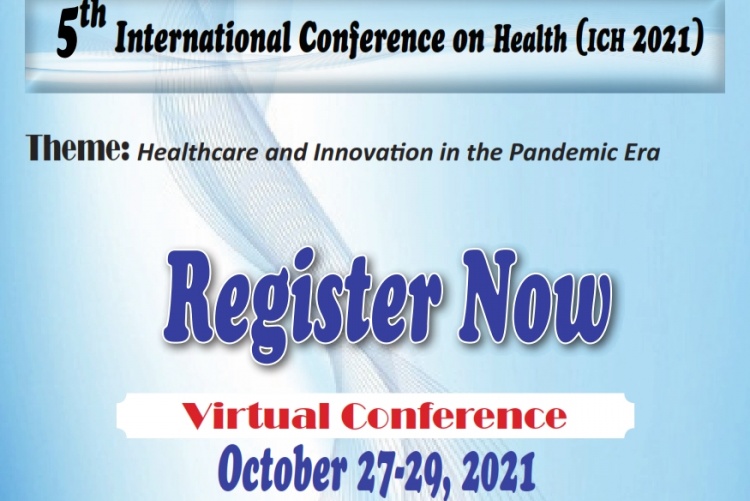 Call for Papers
The University of Nairobi College of Health Sciences (CHS) and Kenyatta National Hospital (KNH) will host the 5th International Conference on Health (ICH 2021).  The conference will bring together leading healthcare practitioners and intellectual leaders from Kenya and around the world. The insights from the conference will provide directions for the health agenda in Kenya and globally.
 Background
In 2021, countries face pressing challenges in health care due to the coronavirus disease (Covid-19) pandemic, caused by the severe acute respiratory syndrome coronavirus-2 (SARS-CoV-2).
Many countries, including Kenya, are readjusting their health care and socio-economic agenda to mitigate the impact of Covid-19 pandemic by refocusing new efforts on prevention, diagnosis, treatment, technologies, innovations, disease epidemiology and vaccination to combat disease dissemination of the SARS-CoV-2.
Moreover, governments globally still need to make progress towards achievements of their commitments to their health care agenda, under the Sustainable Development Goals (SDG 3), to promote access to quality essential healthcare services, safe, effective, quality and affordable essential medicines and vaccines for all; with financial risk protection.
The Covid-19 pandemic has however disrupted the progress of many governments towards the optimal achievement of health care goals; including attaining targets for the level of service coverage; level of immunization coverage; health services for non-communicable diseases such as hypertension, diabetes and cancer; services for infectious diseases; the proportion of households with significant expenditures on health; and strengthening the prevention and treatment of mental illness and substance abuse.
Healthcare and Innovation in the Pandemic Era is therefore the theme of ICH 2021.
The ICH 2021 conference aims to provide a forum for researchers, clinicians, academicians, leading health practitioners, students and stakeholders to present their research and expert opinions on research, policy and professional practice. The conference will help define specific concerns in health and the roadmap to optimally delivering and achieving optimal health care in the Covid-19 pandemic era, and facilitate strategic engagement for health. Papers will be drawn from a broad range of the health sciences and related disciplines
CONFERENCE THEME:
 Healthcare and Innovation in the Pandemic Era
CONFERENCE SUB-THEMES:
| | |
| --- | --- |
| 1)     Innovations in Health | 10)   Mental Health |
| 2)     Infectious Diseases | 11)  Quality and safety |
| 3)    Non-communicable Diseases | 12)   Biosafety, biosecurity, bioethics |
| 4)     e-Health | 13)   Reproductive Health |
| 5)     Maternal and Child Health | 14)   Pharmaceutical Care |
| 6)     Health Governance | 15)   Medical education |
| 7)     Oral Health | 16)    Laboratory and Diagnostic Sciences |
| 8)   Surgical care | 17)    Critical care |
| 9)   Public Health | 18)    Resilience and Covid – 19 |
 SUBMISSIONS AND TIMELINE:
The conference targets academicians, professionals and students from various health and research fields to present original research or expert commentaries in oral or poster sessions.
SUBMISSIONS
Abstracts Submission portal: www.knh.or.ke/index.php/research/
KEY DATES:
Abstract submission deadline: 30th September 2021
REGISTRATION DETAILS
Participants
Participants:                                  KSh. 1000.00 (USD 10)
Students:                                       KSh. 500.00 (USD 5)
PAYMENT INFORMATION:
Payment can be made cash deposits or transfers to University of Nairobi or Kenyatta National Hospital
Bank details:
Account name:                  University of Nairobi Research Grant
Account number:              1104657112
Bank:                                 Kenya Commercial Bank
Branch:                              University Way
Bank code:                        01167
Swift code:                        KCBLKENX
Or:
Account name:      Kenyatta National Hospital Revenue
Account number: 1003058005200
Bank:                     National Bank of Kenya Ltd
Branch:                 Hospital Branch
Bank code:            012025
Swift code:            NBKEKENXXX
Please send a scanned copy of the transfer details addressed to: j.meme@uonbi.ac.ke; or to: knhresearch@gmail.com.