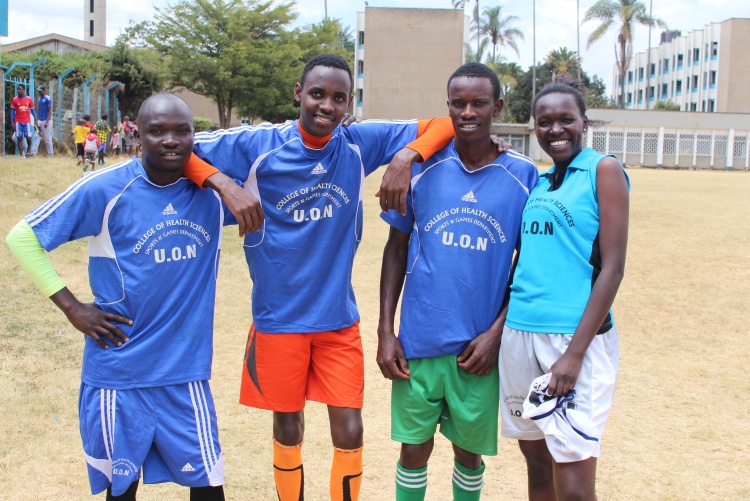 Welcome!
Campus Life
As the Dean FHS I want to welcome you to our beautiful Faculty!
FHS is a vibrant community of multicultural staff and students from Kenya, Africa and the world. Each of you has something special to contribute to this college and I want to make sure that you all feel at home on our campuses. The First-Year Experience is just one of many things we have in place to make that happen.
The Faculty is the largest, by some  distance, among similar institutions in the country and indeed, the region. The training programs at FHS range from certificate courses to  doctorate degrees with about 4,000 and 1,500 undergraduate and graduate students respectively. To accomplish the teaching tasks the University has deployed 332 teaching staff to the Faculty. The Faculty, through the teaching and particularly the research units, undertakes some of the most revolutionary research activities including vaccine development, stem cell biology and a wide range of activities in traditional medicines and dental appliances. The research activities are supported by 287 dedicated staff.
Student Housing
Faculty of Health Sciences provides different types of accommodation for undergraduate and postgraduate students, on and off campus.
Each residence has its own history and traditions, but they all try to provide a great experience. Safety is of great importance to FHS, so all residences have strict access control and most are covered by closed-circuit television cameras.
Students with disabilities can be accommodated in different residences. Simply contact the Student Accommodation Office and the Disability Service, and they will address your particular needs.
For more information visit the Student Welfare Authority website.
Health and Wellness
Your health and wellness is central to your success on campus and in life.
A 24-hour free access to medical emergency care services to both outpatient care at University Health Services facilities and inpatient care at private hospitals without exclusions make's UoN's health system unique in character, function and operation befitting a World Class University.
Sports and games
The University of Nairobi has dedicated resources to sports and games. Visit the Sports and Games website for more details.
Career services
The Office of Career Services offers career counselling to enable students and graduates to recognize and understand themselves and the job market so as to come to a resolve on career, life and educational choices.
For details visit the Office of Career Services website
Student Organizations Societies
There are more than 10 Students organizations in FHS reflecting a wide range of interests, including academic, religious, cultural, social and political activities.
Membership of the societies allows you to enjoy activities on the university's campuses that are not normally part of the academic life. Become part of a campus community that is stimulating and opens up new challenges and opportunities.
Each society is run by students and any current FHS student may be a member. Individual societies hold a number of events every year, including an annual general meeting that elects new leadership for the following year.
Societies are partially funded by the university and partially by the subscription fees that some of the societies charge.
During the annual orientation week, you can sign-up with the societies that interest you.